Books and Guides by Good at Golf
Improve Your Game Today
FREE Guide – The Power Drive Guide
FREE E-Book – Seven Great Golf Tips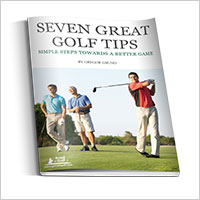 "Seven Great Golf Tips – Simple Steps Towards a Better Game" is a compilation of seven of the best tips you might ever get to improve your game. Things like how to take your game from the range to the course and the three essential keys to shoot lower scores will help your game for sure.
Best of all this e-book is FREE! You can get your copy by signing up for the FREE Good at Golf newsletter.
Signup Now >>
120 Timeless Golf Lessons
120 Timeless Golf Lessons
helps you to create plan to improve your game step-by-step. By working on all aspects of the game (short game, long game and mental game) you'll be playing your best golf in just 30 days.
Improve your game and uncover your true golf swing. Order your copy today on amazon or other good book stores.
"(…) @CoachLockey @good_at_golf , they helped me out to regain my single handicap after a long break.."
"I wish I would have followed you before golf season was over in OH I might have actually played better #wishilivedinawarmstate"
"Thx for the tips. Read through a few and took 6 strokes off today."
"I just finished your book 'seven great golf tips' in iBooks. It has some great points that I'm looking forward to trying"
"Greg, that game can wreck ur head had a snap hook for 8 rounds gone now!!"