On this page you find recommendations of the best new golf clubs of 2019.
You find recommendations for the categories of driver, fairway woods, game improvement irons and player irons. The clubs featured here are sticks worth your time, energy and dollars this year – at least in our humble opinion.
#1 Driver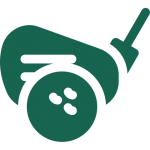 #1 Fairways
#1 Improvement
#1 Player Irons
#1 Driver of 2019 – TaylorMade M6 Driver
This driver gives you maximum forgiveness. Instead of sliding weights the TaylorMade M6 features large panels of carbon composite in its sole. A twisted face shape helps you to minimize mis-hits.
Loft:
9, 10.5, 12 (both adjustable +/- 2 degrees)
#1 Fairway Woods of 2019 – TaylorMade M6 Fairway Woods
Similar to the M6 driver the TaylorMade M6 Fairways Woods feature maximum forgiveness with good launch properties. The Twist Face technology helps to bring back off-center hits by reducing side spin to deliver straighter shots.
#1 Game-Improvement Irons of 2019 – Cobra Golf 2019 F9 Men's Speedback One Length
Inspired by the revolutionary swing philosophy pioneered by Bryson Dechambeau the Cobra One Length irons allow you to use one repeatable setup and swing through the set. A distinctive shape stretches the low heel and toe areas for extra forgiveness.
Loft:
7-iron: 29.5 degrees; PW: 44 degrees
Street Price:
$800, set of seven
#1 Player Irons of 2019 – Mizuno JPX919 Tour Golf Iron Set
The stability frame of the Mizuno JPX919 irons features an open at the heel portion to enhance stability and launch, while producing a tour preferred vibration and sound. The top edge is narrowed to match grinds commonly requested on Tour. The looks are as beautiful as is the turf interaction.
Loft:
7-iron: 34 degrees; PW: 46 degrees